The Dong Zhi (冬至) or Winter Solstice Festival is one of the most significant festivals celebrated by the Chinese and many other East Asian nations. It is usually celebrated during the Dong zhi solar term (winter solstice) on or around December 22, where the sunshine is usually at its weakest and the daylight shortest.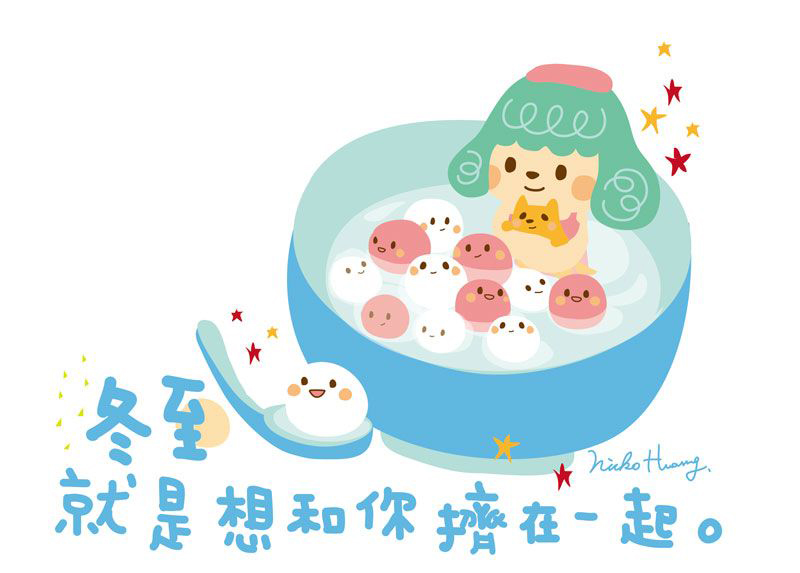 The concept of the festival traces back to the Yin and Yang philosophy of balance and harmony. After this celebration, it is said that there will be days with longer daylight hours, also an indication of the increase of positive flow of energy.
When is Dong Zhi / Winter Solstice Festival / 冬至 2013?
Unlike most Chinese festivals that are based on Chinese lunar calendar, Dong Zhi celebrates the winter solstice which occurs when the Earth's axial tilt is farthest away from the sun and thus is based on the Gregorian (Western) solar calendar.
Dong Zhi 2013 / Winter Solstice Festival 2013 / 冬至 2013 Date
Dong Zhi 2013 / Winter Solstice Festival 2013 / 冬至 2013 will fall on Saturday, 21 December 2013.
Dong Zhi 2012 / Winter Solstice Festival 2012 / 冬至 2012 Date
Dong Zhi 2012 / Winter Solstice Festival 2012 / 冬至 2012 will fall on Friday, 21 December 2012.
Dong Zhi 2011 / Winter Solstice Festival 2011 / 冬至 2011 Date
Dong Zhi 2011 / Winter Solstice Festival 2011 / 冬至 2011 most likely fall on Thursday, 22 December 2011.
Dong Zhi 2013 in Singapore
Dongzhi 2013 is an important festival for Singaporean Chinese. Chinese families gather during Dong Zhi to pay homage for a good year, and celebrate it by eating tang yuan, a traditional food made out of rice flour stuffed with sesame seeds or red bean paste served along a clear soup made of sugar and water and seasoned with pandan leaves and ginger. It is also a time for them to be with their families and friends and to rekindle old friendships.
Dong Zhi in Malaysia
Malaysians observe the Winter Solstice Festival like every Asian countries. The Chinese community of Malaysia would gather with their families and friends and celebrate a good meal together.
冬至 2013 in China
This is the time of the year where families reunite and people tend to get busy stocking food for the upcoming winter in China. Chinese believe that as the day grows longer after the festival ??, positive energy will also be stronger. People also wear new clothes and exchange gifts with each other and also visit their departed loved ones. Most institutions are also closed during this day, from schools to offices are people are usually seen celebrating almost everywhere. Dumpling soup is also present during the celebration in some parts of Northern China. The community of Southern China also eats tangyuan and is also offered as gifts to friends and relatives.
冬至 / Winter Solstice 2013 in Hong Kong
A large portion of the Hong Kong populace is of Chinese descendangts and the 冬至 festival is celebrated throughout the city. Each celebration is observed with zeal and eagerness every time. The Winter Solstice festival is among those Hong Kong festivals that is known for its elaborate stature. Here, the people of Hong Kong put on new clothes and give gifts to one another, especially with their loved ones. It is also a time for families to reunite and celebrate the festival together.
冬至 2013 in Taiwan
Aside from the followings of China customs in Taiwan, they have their own custom of offering a nine layer cake as a commemoration to their ancestors. The cake is made up of glutinous rice flour that the people of Taiwan shape in the form of a chicken, tortoise, duck, pig, sheep, cow and steam it in pots of different layers. Another custom is that Taiwanese consume large amounts of tonic food during the festival. They believe that most physical activities should be taken in moderation and bodies should be well fed in preparation for the winter season ahead. This gesture was derived from the phenomena of animals called hibernation. It is therefore necessary to eat more fatty foods so that the body can produce heat in order to fight the cold weather.
Happy Dong Zhi 2013 / Winter Solstice Festival 2013 / 冬至 2013 !